CODE DISCOUNT 39%:  DFPWR853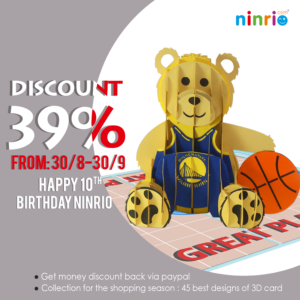 Happy 10th Birthday to NINRIO
Please celebrate on us with 350 Coupons with 39% Discount off all products with code DFPWR853
Discount for site: Amazom.com
https://amzn.to/2jVfIjY
https://amzn.to/2lYz2gY
https://amzn.to/2jY3rv7
https://amzn.to/2kqjDWh
https://amzn.to/2jY3tDf
Expire: 30th September 2019
Happy 10th Birthday to NINRIO – Ninrio is 10 year young. It's been a whirlwind since those early days when Pop-up card was extremely new to the world.  It was all fairly basic and involved large ideas and creative. When I launched this business in 2009 I had no idea after 10 years I'd still be creating pop up card. Yet here I am!
Nowadays in this modern life with full of new technique, as busy people we often forget to stop and celebrate the good stuff that happens everyday. It's easy to cheers a birthday of someone on social network but it's rare that we actually sit back together. By creating a small, beautiful 3D card I hope to bring a meaningful message without word, happiness for both senders and receivers. My dream came true when now Ninrio's pop-up cards appear more than 40 countries. The good news is we don't plan to stop here.
On behalf of Ninrio, I would like to thank our clients, employees, partners
 for their contributions to our continued success, support us to grow our business. To those of you that I've already worked with – Thank You. Ninrio is always willing to try new things and adapt to changes in the market. We are confident to keep serving our clients needs and wants with our best.
Peter Pham, Ninrio CEO